The Drawing Office holds a collection of some 2000 original Velocette drawings saved for prosterity by War Time save guarding, where the management in their wisdom had all the major component drawings saved on 35mm transparencies. I have painstakingly scanned each one and saved them as digital files. The list of the most readily available drawings can be downloaded from the following Excel link.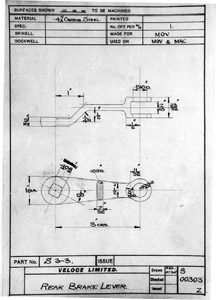 Click here for the drawings list
If you require any drawing copies, please send your request via my contacts page. A4 Paper copies of the drawings are available at £6 per copy + 10% P&P, within the UK.  Where certain drawings require large A1 prints, these are £20.00 + 10% P&P.
Please contact me regarding postage overseas.